01.02.2011 | Originals Originalarbeiten | Ausgabe 1/2011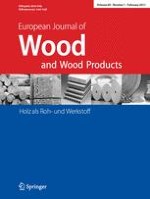 The effect of acetylated particle distribution and type of resin on physical and mechanical properties of poplar particleboard
Zeitschrift:
Autoren:

Hamideh Abdolzadeh, Kazem Doosthoseini, Ali Naghi Karimi, Ali Akbar Enayati
Wichtige Hinweise
Additional corresponding author e-mail address: h_abdolzadeh@ut.ac.ir
Abstract
This paper presents the results of a study on using acetylated particles for particleboard production. A three-layer board with distributed acetylated particles on the surface layers and a single-layer board with a uniform distribution of acetylated particles were fabricated. Three levels of acetylation of  0, 8.4 and 17.3% weight percentage gain (WPG), i.e., zero, medium and high levels of acetylation, were applied. The boards were fabricated with 4 wt% methylene diphenyl diisocyanate (MDI) and 10 wt% urea formaldehyde (UF) adhesive. The results indicated that the mechanical properties of the boards were negatively affected by acetylated particles. Overall, MDI-bonded particleboards gave superior mechanical performance, water resistance, and thickness swell to UF-bonded particleboards. The strength of UF-bonded boards decreased much more than that of MDI-bonded boards as acetylation level increased. The MDI-bonded single-layer boards made using medium-level acetylation were recognized to have suitable mechanical properties, and the MDI-bonded three-layer boards made from high level acetylation showed suitable dimensional stability.