2019 | OriginalPaper | Buchkapitel
The Effect of Assist-as-Needed Support on Metabolic Cost During Gait Training of Chronic Stroke Patients in LOPESII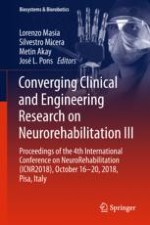 Erstes Kapitel lesen
Autoren: Bertine M. Fleerkotte, Jaap H. Buurke, Edwin H. F. van Asseldonk, Johan S. Rietman
Abstract
Effectiveness of robotic gait training in rehabilitation of stroke patients remains inconclusive. A reason could be that the current robotic gait trainers do not initiate motor learning principles enough. To encourage active participation of the patient and therefore motor learning, assist-as-needed (AAN) support strategies have been implemented in the robotic gait trainer LOPESII. Aim of the current study was to examine the effect of assist-as-needed support on metabolic cost.
Ten chronic stroke patients completed three 6-min walking trials in LOPESII, with zero support, AAN-support for stiff knee gait and complete-support. Metabolic parameters were measured and compared between support conditions.
No significant differences in net metabolic power were observed between zero-support, AAN-support and complete support.
No evidence was found that AAN-support asks a higher metabolic cost of the participant.