01.08.2014 | Ausgabe 9/2014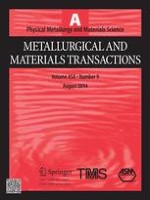 The Effect of Cu Powder During Friction Stir Welding on Microstructure and Mechanical Properties of AA3003-H18
Zeitschrift:
Autoren:

B. Abnar, M. Kazeminezhad, A. H. Kokabi
Wichtige Hinweise
Manuscript submitted October 28, 2013.
Abstract
Friction stir welding (FSW) was used to join 3003-H18 non-heat-treatable aluminum alloy plates by adding copper powder. The copper powder was first added to the gap (0.1 and 0.2 mm) between two plates and then the FSW was performed. The specimens were joined at various rotational speeds of 800, 1000, and 1200 rpm at traveling speeds of 70 and 100 mm/min. The effects of rotational speed, second pass of FSW, and direction of second pass also were studied on copper particle distribution and formation of Al-Cu intermetallic compounds in the stir zone. The second pass of FSW was carried out in two ways; in line with the first pass direction (2F) and in the reverse direction of the first pass (FB). The microstructure, mechanical properties, and formation of intermetallic compounds type were investigated. In high copper powder compaction into the gap, large clusters were formed in the stir zone, while fine clusters and sound copper particles distribution were obtained in low powder compaction. The copper particle distribution and amount of Al-Cu intermetallic compounds were increased in the stir zone with increasing the rotational speed and applying the second pass. Al
2
Cu and AlCu intermetallic phases were formed in the stir zone and consequently the hardness was significantly increased. The copper particles and
in situ
intermetallic compounds were symmetrically distributed in both advancing and retreating sides of weld zone after FB passes. Thus, the wider area was reinforced by the intermetallic compounds. Also, the tensile test specimens tend to fracture from the coarse copper aggregation at the low rotational speeds. At high rotational speeds, the fracture locations are placed in HAZ and TMAZ.