29.12.2016 | Original Paper | Ausgabe 7/2017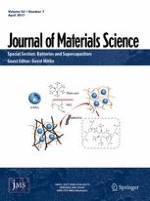 The effect of molten salt on oxygen removal from titanium and its alloys using calcium
Zeitschrift:
Autoren:

Yang Xia, Zhigang Zak Fang, Pei Sun, Ying Zhang, Tuoyang Zhang, Michael Free
Abstract
The sensitivity of titanium to increasing oxygen content and the high cost of reducing oxygen content in titanium have prevented its broader applications. Here we report a low-temperature de-oxygenation process, which can remove oxygen from titanium powders to less than 1000 ppm from original oxygen levels of over 20,000 ppm. The effect of molten salt on de-oxygenation was investigated in this study. The calcium halide-bearing molten salt facilitates the dissolution of solid calcium and creates a metal-molten solution condition by forming intermediate Ca
+
ions and finally Ca
2+
ions and electrons (
e
−
). The molten salt enables the de-oxygenation of Ti at temperatures lower than the melting point of calcium. It will be shown that the de-oxygenation temperature can be as low as 873 K (600 °C).