17.06.2019 | Polymers & biopolymers | Ausgabe 19/2019 Open Access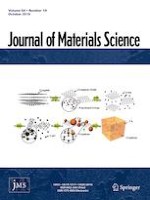 The effect of organoclay loading and matrix morphology on charge transport and dielectric breakdown in an ethylene-based polymer blend
Zeitschrift:
Autoren:

Allison V. Shaw, Alun S. Vaughan, Thomas Andritsch
Wichtige Hinweise
Publisher's Note
Springer Nature remains neutral with regard to jurisdictional claims in published maps and institutional affiliations.
Abstract
The effect of an organoclay on the electrical properties of a polymeric host is described. The matrix was composed of a blend of high- and low-density polyethylene, to which an ethylene/(vinyl acetate) copolymer was added, to increase compatibility between the organoclay and the matrix and, thereby, improve the organoclay dispersion. The ratio between the compatibiliser and organoclay was found to be important in forming a well-dispersed system, as evidenced by thermogravimetric analysis, X-ray diffraction and scanning electron microscopy, indicating the effectiveness of the chosen compatibilisation strategy. DC conductivity was found to be determined by the precise distribution of the organoclay throughout the system; changes in morphology and phase structure of the matrix polymer resulting from changes in imposed thermal history had little effect
per se
, but varying degrees of self-assembly of the organoclay facilitated by different residence times within the quiescent melt could result in changes in overall DC conductivity of several orders of magnitude. Consequent increases in DC conductivity led to reductions in DC breakdown strength, implying failure through some avalanche or thermal process. However, a monotonic increase in observed AC breakdown strength implies that the associated underlying failure process is then very different.