12.06.2019 | Ausgabe 14/2019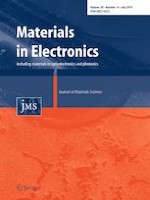 The effect of planar atomic configuration in the enhancement of AC conductivity and dielectric characterization of bisbenzimidazo[2,1-a:2′,1′-a′]anthra[2,1,9-def:6,5,10-d′e′f′]diisoquinoline-10,21-dione7 (BI-diisoQ) thin film
Autoren:

Saleem I. Qashou, A. A. A. Darwish
Wichtige Hinweise
Publisher's Note
Springer Nature remains neutral with regard to jurisdictional claims in published maps and institutional affiliations.
Abstract
The analysis of FTIR-spectra verified the adequacy of vacuum thermal evaporating technique in achieving undissociated films of bisbenzimidazo [2,1-a:2′,1′-a′] anthrax [2,1,9-def:6,5,10-d′e′f′] diisoquinoline-10,21-dione7 (BI-diisoQ). The SEM images confirmed that the surface topography of BI-diisoQ thin film is realized by nano-rod shape. The electrical conductivity [
σ
(
ω
)] pattern versus temperature and frequency was studied in the frequency and temperature ranges of 250 Hz–5 MHz and 290 to 373 K respectively. The behavior of
σ
(
ω
) in the scope of higher frequency range was explained by Jonscher formalism. The transition of carrier charge inside BI-diisoQ thin film was dominated by the correlated barrier hopping (CBH) model. The density of localized states [
N
(
E
F
)] at the Fermi states was estimated to be 3.4 × 10
22
eV
−1
cm
−3
at
T
 = 293 K and
ω
 = 500 kHz. The behavior of the complex dielectric constants versus frequencies and temperatures has been studied. The relationship between the imaginary part of electric complex modulus and frequency at different values of temperature was discussed. The activation energy of relaxation time (
ΔE
M
) was evaluated to be 0.156 eV. Overall, the comparison of the low value of
ΔE
M
and the significant value of
N
(
E
F
) for BI-diisoQ molecule concerning the relatively small organic molecules confirm the effective of planar atomic configuration in boosting the dipole orientation and in the enhancement of the induced motion of the carrier charges.