01.03.2015 | Ausgabe 4/2015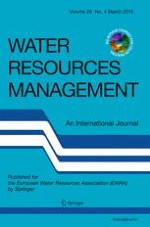 The Effect of Predicting Discharge Coefficient by Neural Network on Increasing the Numerical Modeling Accuracy of Flow Over Side Weir
Zeitschrift:
Autoren:

Abbas Parsaie, AmirHamzeh Haghiabi
Abstract
Prediction and modeling of hydraulic phenomenon is an important part of hydraulic engineering activities. One of the applications of prediction and modeling is estimating the discharge coefficient for hydraulic structures. Side weirs are widely used for allocating and removing excess flow in water engineering projects. The governing equation on side weir hydraulic characteristics is spatially varied flow (SVF). Computer modeling of hydraulic characteristics this structure includes the calculation of water surface profiles and estimating the discharge coefficient (
Cd
sw
). The numerical method was used to calculate the water surface profile and there are several ways to estimate the
Cd
sw
, such as experimental formulas and computational intelligence techniques. In this paper, the Fourth Runge Kutta method is used for numerical solution of SVF and firstly to estimate
Cd
sw
, some famous empirical equations are assessed. Among the empirical formulas, the Borghei is the most accurate one. To increase the accuracy of computer modeling, the Multilayer Neural network (MLP) is developed to estimate
Cd
sw
. The result shows that using neural network to estimate
Cd
sw
increases the accuracy of the final model about 16 %.