10.02.2020 | Composites & nanocomposites | Ausgabe 14/2020 Open Access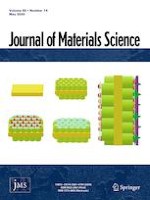 The effect of pulverization methods on the microstructure of stiff, ductile, and flexible carbon aerogels
Zeitschrift:
Autoren:

Marina Schwan, Jessica Schettler, Felix M. Badaczewski, Charlotte Heinrich, Bernd M. Smarsly, Barbara Milow
Wichtige Hinweise
Publisher's Note
Springer Nature remains neutral with regard to jurisdictional claims in published maps and institutional affiliations.
Abstract
Carbon aerogels find application in many fields. In most of the applications, they are used as powders and thus need to be pulverized. However, the pulverization could induce various changes in the microstructure of carbon aerogels. The extent of changes depends not only on the dominant forces of used technique, but also on the mechanical and structural properties of initial monolithic samples. In the present work, we discuss the influence of grinding, milling in shaker cryo-mill, and planetary ball mill on stiff, ductile and flexible carbon aerogels. Scanning electron microscopy and transmission electron microscopy images, gas sorption techniques, wide-angle X-ray scattering, and Raman spectroscopy show a strong dependency of the introduced energy amount while pulverization on the structure modification. Results show that stiff carbon aerogels do not undergo noticeable changes. In contrast, ductile carbon aerogels are very sensitive to friction forces. Soft and flexible carbon aerogels undergo drastic changes in the microstructure.