01.01.2015 | Original Paper | Ausgabe 2/2015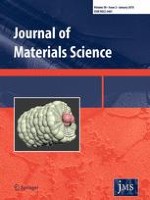 The effect of second-phase particles on grain refinement during equal-channel angular pressing in an Al–Cu–Mg–Ag alloy
Zeitschrift:
Autoren:

M. Gazizov, S. Malopheyev, R. Kaibyshev
Abstract
In this work, the effect of second-phase particle distributions on grain refinement during equal-channel angular pressing (ECAP) was studied at 250 °C by comparing the microstructural evolution in an Al-Cu-Mg-Ag alloy processed in three different states. The first state (QA) was obtained by water quenching, and the second state was obtained by over-aging at 250 °C. Both these states contain fine dispersions of Ω-phase shearable plates with coherent and/or semi-coherent interfaces. The QA plate thickness prior to ECAP was higher by a factor of four than in the OA. The third alloy (HA) contained relatively coarse non-deformable particles of thermodynamically equilibrium phases with incoherent interfaces. It was shown that distribution of the secondary phase particles strongly affects the continuous dynamic recrystallization through the initial formation of geometrically necessary boundaries (GNBs), pinning dislocations and deformation-induced boundaries. The formation of a fully recrystallized structure occurs at the highest rate in the HA material with rounded grains because of 3D networks of low-angle boundaries (LABs) evolve at
ε
~ 1 due to the concurrent formation of GNBs belonging to two families. In the QA and OA materials, the shearing of the Ω-phase plates with the coherent interfaces leads to the strong localization of dislocation slip and the dominant formation of one family of GNBs. Non-shearable nanoscale dispersoids hinder the formation of 3D arrays for GNBs. As a result, only a partially recrystallized structure evolves, even at strains of up to
ε
~ 12.