01.11.2011 | Original Paper | Ausgabe 6/2011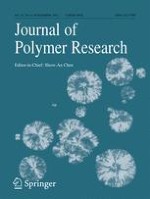 The effect of stretching on the morphological structures and mechanical properties of polypropylene and poly(ethylene-
co

-octene) blends
Zeitschrift:
Autoren:

Lin Zhu, Xinhua Xu, Jing Sheng
Abstract
Binary blends based on polypropylene and poly(ethylene-
co
-octene) were prepared in a co-rotating twin-screw extruder. A stretching process was carried out afterwards in the melt state at the extruder's exit to study the effect of stretching on morphological structures and mechanical properties. The morphological structures of the blends were investigated by scanning electron microscopy and small-angle X-ray scattering. The structure parameters, the correlation distance, the average chord lengths, and the Porod's index, obtained by the Debye-Bueche statistical theory of scattering were used to characterize the morphological structures. In addition, the relationship of mechanical properties with the structure parameters was also studied and some results were acquired.