01.09.2013 | Ausgabe 9/2013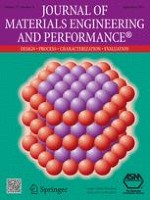 The Effect of the Imposed Boundary Rate on the Formability of Strain Rate Sensitive Sheets Using the
M

-

K

Method
Zeitschrift:
Autoren:

Ramin Hashemi, Amir Ghazanfari, Karen Abrinia, Ahmad Assempour
Abstract
In spite of the fact that the experimental results indicate the significant effect of strain rate on forming limits of sheets, this effect is neglected in all theoretical methods of prediction of Forming Limit Diagrams (FLDs). The purpose of this paper is to modify the most renowned theoretical method of determination of FLDs (e.g.,
M
-
K
model) so as to enable it to take into account the effect of strain rate. To achieve this aim, the traditional assumption of preexistence of an initial geometrical inhomogeneity in the sheet has been replaced with the assumption of a preexisting "material" inhomogeneity. It has been shown that using this assumption, the strain rate would not be omitted from equations; thus, it is possible to demonstrate its effect on FLDs. To validate the results, they are compared with some published experimental data. The good agreement between the theoretical and experimental results shows capabilities of the proposed method in predicting the effect of the imposed rate at the boundary (which is physically the effect of the punch speed difference in sheet forming) on FLDs.