25.04.2018 | Ausgabe 3/2018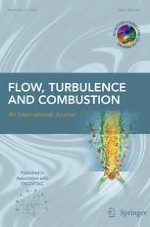 The Effect of the Mach Number on a Turbulent Backward-Facing Step Flow
Zeitschrift:
Autoren:

Istvan Bolgar, Sven Scharnowski, Christian J. Kähler
Wichtige Hinweise
Publisher's Note
Springer Nature remains neutral with regard to jurisdictional claims in published maps and institutional affiliations.
Abstract
The flow around a backward-facing step in the sub-, trans- and supersonic regimes was investigated at the Trisonic Wind Tunnel Munich with particle image velocimetry and dynamic pressure measurements. These two techniques were combined to simultaneously measure and correlate the velocity fluctuations in a streamwise vertical plane with the pressure fluctuations on the reattachment surface. The results show that the dynamic loads on the reattachment surface increase from subsonic up to the transonic regime while the mean reattachment location moves downstream. As soon as the flow becomes locally supersonic aft of the backward-facing step, the mean reattachment location suddenly moves upstream while the normalized dynamic loads drastically decrease. By correlating the velocity and the dynamic pressure data, it was shown that a clear separation between outer flow and the flow close to the surface aft of the step is responsible for the drastic load reduction. Due to the large difference in pressure/density, the disturbances from the locally supersonic flow do not have an effect on the flow close to the surface. This is also reflected in the power spectral densities of the pressure fluctuations on the surface, showing that at supersonic free-stream Mach numbers a low-frequency pumping motion of the locally subsonic flow is the dominant mode, while in sub-/transonic flow Kelvin-Helmholtz instabilities and a cross-pumping motion of the shear layer dominate the dynamic loads.