01.04.2014 | Research Paper | Ausgabe 4/2014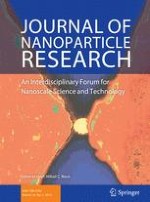 The effect of titanium dioxide nanoparticles on antioxidant gene expression in tilapia (
Oreochromis niloticus

)
Zeitschrift:
Autoren:

Ruth Varela-Valencia, Nikte Gómez-Ortiz, Gerko Oskam, Romeo de Coss, Jorge Rubio-Piña, Marcela del Río-García, Arnulfo Albores-Medina, Omar Zapata-Perez
Abstract
The reactivity of nanoparticles (NPs) in biological systems is well recognized, but there are huge gaps in our understanding of NP toxicity in fish, despite a number of recent ecotoxicity studies. Therefore, the aim of this research was to evaluate the effect of titanium dioxide NPs (TiO
2
-NPs) on antioxidant gene expression in the tilapia,
Oreochromis niloticus
. First, different sizes, shapes, and phases of TiO
2
-NPs were synthesized and characterized by scanning electron microscopy (SEM), X-ray diffraction (XRD), and dynamic light scattering (DLS). Fish were injected intraperitoneally with different concentrations (0.1, 1.0, 10.0 mg/L), sizes (7, 14, and 21 nm), and phases (anatase and rutile) of TiO
2
-NPs, and sacrificed 3, 6, 12, and 24 h after injection, when their livers were removed. Total RNA was extracted, and expression of the catalase (
CAT
), glutathione-
S
-transferase (
GST
), and superoxide dismutase (
SOD
) genes was assessed by real-time polymerase chain reaction (RT-PCR). The results showed that injection of 1.0 mg/L TiO
2
-NPs induced an initial mild increase in
CAT, GST
, and
SOD
gene expression in tilapia, after which transcript levels decreased. Fish injected with 7 and 14 nm TiO
2
-NPs showed an increase in antioxidant transcript levels 6 h after treatment. Finally, the rutile form generated stronger induction of the
GST
gene than anatase TiO
2
-NPs during the first 6 h after injection, which suggests that exposure to rutile causes higher levels of reactive oxygen species to be produced.