2013 | OriginalPaper | Buchkapitel
6. The Effectiveness of Environmental Impact Assessments on Visitor Activity in the Ross Sea Region of Antarctica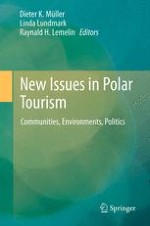 Erstes Kapitel lesen
Autoren: Tanya A. O'Neill, Ph.D. Megan R. Balks, Ph.D. Jerónimo López-Martínez
Verlag: Springer Netherlands
Abstract
The Madrid Protocol requires that before any kind of activities are conducted in Antarctica, the possible environmental impacts need to be assessed. Five case studies were investigated to assess the effectiveness of the Environmental Impact Assessment (EIA) system with respect to predicting and managing the effects of visitor activity in the Ross Sea region of Antarctica. Investigated EIAs included the decommissioning of the Greenpeace World Park Base, Cape Evans; Taylor Valley Visitor Zone, Taylor Valley; the decommissioning of the Vanda Station; occupation of the Loop Moraine campsite, both in the Wright Valley and McMurdo Dry Valleys; and the occupation and restoration of the ice-free storage area for the Cape Roberts Drilling Project, Cape Roberts.
The assessed sites were situated on a variety of landforms, soil parent materials, and local climates. At each site, the history of the site was known, and the time since last disturbance was well constrained. Assessment of the present state of the sites and accuracy of the EIA predictions compared with the actual impacts were carried out in the austral summers of 2008/2009 and 2009/2010 using visual soil assessment methods.
At each of the five case studies, the standard of physical landscape recovery was higher than anticipated. Each case study demonstrated a high standard of EIA compliance, appropriate remediation of the site post-event, and follow-up monitoring where promised. Cleanup practices were of a high standard in each of the case studies investigated. The raking out of tracks, redistribution of disturbed stones, and careful backfilling of excavations all assisted in the rehabilitation of the formerly disturbed sites to near their predisturbed condition.
Although the EIA process may seem superficial, with a lot of form filling, the process is effective as it raises environmental awareness and motivates visitors to take responsibility for their "footprint" on the environment.