01.10.2011 | Ausgabe 5/2011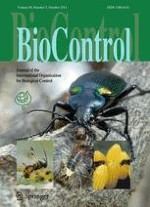 The effects of a plant defence priming compound, β-aminobutyric acid, on multitrophic interactions with an insect herbivore and a hymenopterous parasitoid
Zeitschrift:
Autoren:

Simon Hodge, Jane L. Ward, Aimee M. Galster, Michael H. Beale, Glen Powell
Wichtige Hinweise
Handling Editor: Stefano Colazza
Abstract
Biocontrol of aphids by natural enemies is utilized in many organic and integrated pest management schemes. β-aminobutyric acid (BABA), a non-protein amino acid, is a plant defence primer that suppresses growth of some insect herbivores when applied as a root drench. This investigation examined how applying BABA to host plants via the roots may impact on a parasitoid wasp of aphids. Female
Aphidius ervi
(Haliday) did not discriminate against pea aphids (
Acyrthosiphon pisum
(Harris)) reared on BABA-treated beans (
Vicia faba
L.) or show any modified responses to volatiles released from BABA-treated plants. BABA reduced the size of emerging wasps, primarily by inhibiting the growth of the host aphid. Metabolomic analysis revealed BABA in both aphids and emergent wasps indicating some potential for direct physiological inhibition to have occurred. Survival of the parasitoids was only reduced at doses of BABA likely to produce phytotoxic effects in many plant species, thus there may be potential to incorporate plant defence primers like BABA into integrated pest management practices. However, the precise mechanisms of BABA-inhibition of insects still require elucidation.