02.02.2019 | Original Paper | Ausgabe 11/2019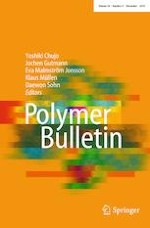 The effects of anionic surfactant on the mechanical, thermal, structure and morphological properties of epoxy–MWCNT composites
Zeitschrift:
Autoren:

Md. Gulam Sumdani, Muhammad Remanul Islam, Ahmad Naim Ahmad Yahaya
Wichtige Hinweise
Publisher's Note
Springer Nature remains neutral with regard to jurisdictional claims in published maps and institutional affiliations.
Abstract
An anionic surface-active agent, linear alkyl benzene sulfonic acid (LABSA), was successfully utilized (2.5, 5.0, 7.5 and 10.0 wt%) to disperse multiwall carbon nanotubes (MWCNTs) in epoxy in order to enhance the properties of nanocomposites. The dispersion of the MWCNTs in the polymer matrix was observed using scanning electron microscopy. In addition, the mechanical properties of the composites such as tensile strength, flexural strength and impact strength were tested. Moreover, the thermal properties of the composites were examined using thermogravimetric analyzer and differential scanning calorimetry. The functional groups and crystalline properties of the nanocomposites were analyzed using Fourier transform infrared spectroscopy and X-ray diffraction, respectively. All the properties were improved significantly by the surface treatment of the MWCNTs using LABSA. The presence of LABSA prohibited the MWCNTs to re-agglomerate and form a big cluster which may lead to poor dispersion in the epoxy. It was found that the highest mechanical properties (tensile strength of 40.4 MPa and flexural strength of 23 MPa) of the nanocomposite were obtained using 5 wt% of LABSA.