2016 | OriginalPaper | Buchkapitel
The Effects of Cognitive Biases in Long-Term Human-Robot Interactions: Case Studies Using Three Cognitive Biases on MARC the Humanoid Robot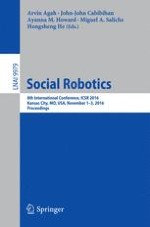 Erstes Kapitel lesen
Autoren: Mriganka Biswas, John Murray
Abstract
The research presented in this paper is part of a wider study investigating the role cognitive bias plays in developing long-term companionship between a robot and human. In this paper we discuss, how cognitive biases such as misattribution, Empathy gap and Dunning-Kruger effects can play a role in robot-human interaction with the aim of improving long-term companionship. One of the robots used in this study called MARC (See Fig.
1
) was given a series of
biased
behaviours such as forgetting participant's names, denying its own faults for failures, unable to understand what a participant is saying, etc. Such fallible behaviours were compared to a non-biased baseline behaviour. In the current paper, we present a comparison of two case studies using these biases and a non-biased algorithm. It is hoped that such humanlike fallible characteristics can help in developing a more natural and believable companionship between Robots and Humans. The results of the current experiments show that the participants initially warmed to the robot with the biased behaviours.