01.04.2015 | Ausgabe 2/2015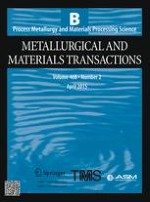 The Effects of Cr2O3 on the Melting, Viscosity, Heat Transfer, and Crystallization Behaviors of Mold Flux Used for the Casting of Cr-Bearing Alloy Steels
Zeitschrift:
Autoren:

Chao Xu, Wanlin Wang, Lejun Zhou, Senlin Xie, Chen Zhang
Wichtige Hinweise
Manuscript submitted August 21, 2014.
Abstract
An investigation was conducted to study the effects of Cr2O3 on the melting, viscosity, heat transfer, and crystallization behaviors of mold flux used for casting high-carbon-chromium steel (Cr12MoV) by using single/double hot thermal-couple technology (SHTT/DHTT), rotary viscosity, and infrared emitter technique (IET). The results showed that both the melting temperature and viscosity increased significantly with the addition of Cr2O3 content, while the general heat transfer rate was reduced with the increase of Cr2O3 due to the decrease of liquid layer and the reduction of radiative heat transfer. Meanwhile, results of IET and DHTT tests indicated that Cr2O3 would inhibit crystallization of mold flux. The results of this study can elucidate the effects of Cr2O3 on the properties of mold flux and provide guidelines for the new mold flux design for the casting of Cr-bearing alloy steels.