28.06.2018 | Original Paper | Ausgabe 4/2019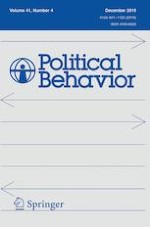 The Effects of Militarized Interstate Disputes on Incumbent Voting Across Genders
Zeitschrift:
Autoren:

Shane P. Singh, Jaroslav Tir
Wichtige Hinweise
Electronic supplementary material
Author order is alphabetical and coauthorship is considered equal.
Abstract
Gender and politics research argues that men are more hawkish and supportive of militarized confrontations with foreign foes, while women ostensibly prefer more diplomatic approaches. This suggests that, after a militarized confrontation with a foreign power, women's likelihood of voting for the incumbent will both decrease and be lower than that of men. Our individual-level, cross-national examinations cover 87 elections in 40 countries, 1996–2011, and show only some support for such notions. Women punish incumbents when their country is targeted in a low-hostility militarized interstate dispute (MID) or when their country is the initiator of a high-hostility MID. The low-hostility MID initiation and high-hostility MID targeting scenarios, meanwhile, prompt women to be more likely to vote for the incumbent. Importantly, men's reactions rarely differ from women's, casting doubt on the existence of a gender gap in electoral responses to international conflict.