01.04.2015 | Ausgabe 2/2015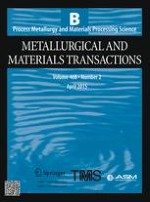 The Electrochemical Co-reduction of Mg-Al-Y Alloys in the LiCl-NaCl-MgCl2-AlF3-YCl3 Melts
Zeitschrift:
Autoren:

Mei Li, Yaochen Liu, Wei Han, Shanshan Wang, Milin Zhang, Yongde Yan, Weiqun Shi
Wichtige Hinweise
Manuscript submitted March 28, 2014.
Abstract
The electrochemical formation of Mg-Al-Y alloys was studied in the LiCl-NaCl-MgCl2 melts by the addition of AlF3 and YCl3 on a molybdenum electrode at 973 K (700 °C). In order to reduce the volatilization of salt solvent in the electrolysis process, the volatile loss of LiCl-NaCl-MgCl2 and LiCl-KCl-MgCl2 melts was first measured in the temperature range from 873 K to 1023 K (600 °C to 750 °C). Then, the electrochemical behaviors of Mg(II), Al(III), Y(III) ions and alloy formation processes were investigated by cyclic voltammetry, chronopotentiometry, and open circuit chronopotentiometry. The cyclic voltammograms indicate that the under-potential deposition of magnesium and yttrium on pre-deposited Al leads to formation of Mg-Al and Al-Y intermetallic compounds. The Mg-Al-Y alloys were prepared by galvanostatic electrolysis in the LiCl-NaCl-MgCl2-AlF3-YCl3 melts and characterized by X-ray diffraction and scanning electron microscopy with energy dispersive spectrometry. Composition of the alloys was analyzed by inductively coupled plasma-atomic emission spectrometer, and current efficiency was also determined by the alloy composition.