18.08.2015 | Ausgabe 4/2016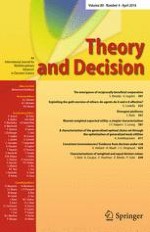 The emergence of reciprocally beneficial cooperation
Zeitschrift:
Autoren:

Sergio Beraldo, Robert Sugden
Wichtige Hinweise
We thank Pasquale Commendatore for advice on the simulation analysis, Matteo Morini and Francesca Di Iorio for programming and data analysis for the stochastic evolutionary model investigated in an earlier version of this paper, and an associate editor and four anonymous referees for comments. S.B. acknowledges financial support from the University of Napoli "Federico II" (Programma di breve mobilità) and from the Banco di Napoli Foundation. R.S.'s work was supported by the Economic and Social Research Council of the UK (Award No. ES/K002201/1).
Abstract
We offer a new and robust model of the emergence and persistence of cooperation when interactions are anonymous, the population is well mixed, and evolution selects strategies according to material payoffs. The model has a Prisoner's Dilemma structure, but with an outside option of non-participation. The payoff to mutual cooperation is stochastic; with positive probability, it exceeds that from cheating against a cooperator. Under mild conditions, mutually beneficial cooperation occurs in equilibrium. This is possible because the non-participation option holds down the equilibrium frequency of cheating. Dynamic properties of the model are investigated theoretically and through simulations based on replicator dynamics.