10.06.2017 | Ausgabe 1-2/2018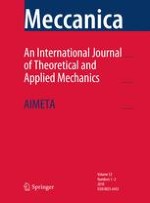 The entropy generation rate minimization for a proposed air ejector for the carpet industry
Zeitschrift:
Autoren:

Esmail Lakzian, Masoud Hajian, Ali Farahmand
Abstract
In this study, a numerical model is developed to simulate an air ejector pump that is proposed for the carpet industry. Simulations have been performed by solving the compressible, steady-state, two-dimensional Reynolds-averaged Navier–Stokes equations, and
k
–
ε Realizable
model is used to simulate a turbulent flow. A comparison of the computed results with the published experimental data is presented. The total entropy generation rate distribution provides designers with useful information about the causes of the flow irreversibility. As an objective, the total entropy generation rate is introduced as a design criterion parameter for an air ejector and compared with the entrainment ratio criterion. Results are shown, the main sources of entropy are mixing, and normal shock is developed in the mixing chamber and diffuser. The optimum ejector geometry parameters of an air ejector, based on the maximum entrainment ratio and the total entropy generation rate minimization, are in agreement, and the optimal converging angle of the mixing chamber, length of the mixing chamber, diameter of primary nozzle, and outlet diameter of the diffuser are
θ
= 2.8°,
L
m
= 40 mm,
d
p
= 1 mm, and
d
d
= 12.6 mm, respectively.