2019 | OriginalPaper | Buchkapitel
1. The Era of the Personal Cloud: What Does It Mean for Cloud Providers?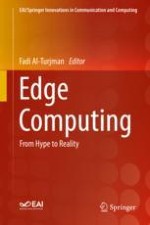 Autoren: Mohamed Abu Sharkh, Abdallah Shami, Mohamad Kalil
Abstract
With the evident Cloud technologies' domination of computing market, new demand conditions are materializing. A game changer in the last few years is the increase in the personal use of Cloud services, so much so that the next era is being dubbed the era of the personal Cloud. Advantages for clients are clear, and hence, the surge in client adoption rates is imperative. The personal Cloud combines all the connected devices (things), controlled by or servicing a single user or a house hold, to form a conceptual border around these elements within the Internet of Things (IoT) universe. This primarily affects Cloud/Internet of Things service providers as it is their Cloud resources that all of this load eventually flows into. Providers need enhanced vision of what needs to change in terms of how they handle Cloud management in general.
In this chapter, we strive to answer this question by investigating the areas which will be most affected in the Cloud management portfolio. The purpose is to offer a solid perspective into what challenges are expected in the environment, technical requirements and usage trends. This, in turn, would aid in constructing a vision for the directions providers need to go in with their policies and algorithm design.
Impacts on the area of resource allocation in the Cloud are discussed. This covers multiple venues including the demand and its impact on financial investment on Cloud resources, the optimality of the pricing plans, and the energy efficiency considerations in light of the personal Cloud conditions. Moreover, we offer a detailed discussion on Cloud client demand pattern prediction methods. A discussion is offered on the impacts of the intersection with Internet of Things performability. This delves into inherent IoT issues in the era of personal Cloud including challenges stemming from request volume, interconnectivity, privacy considerations, and legal issues. Recommendations on the Cloud provider strategy to tackle the service brokering challenge in a way that maximizes profitability from the stream of request coming from heterogeneous things are introduced toward the end.