24.09.2014 | Ausgabe 3/2015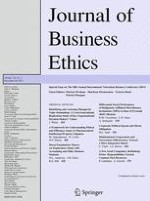 The Ethics of Payments: Paper, Plastic, or Bitcoin?
Zeitschrift:
Autoren:

James J. Angel, Douglas McCabe
Abstract
Individuals and businesses make numerous payments every day. They sometimes have choices about what forms of payment to make or accept, and at other times are effectively forced to use a particular form. Often there is an asymmetric power relationship between payer and payee that raises the issue of whether one side unfairly exploits the other. Is it unethical exploitation for an employer to pay employees with a fee-laden payroll card over other more convenient forms of payment? Does the fee structure of payment networks such as Visa and MasterCard unfairly exploit merchants? The bitcoin payment system is an ethical as well as technological evolution as it was designed to be an electronic payment system that does not rely upon trust. Can an entire payment system like bitcoin be "evil," as charged by Krugman (
2013
)? Payment tools as such are ethically neutral, but can be used in an ethical or unethical manner.