2019 | OriginalPaper | Buchkapitel
8. The EU, CARIFORUM, and CELAC: A New Development Alliance?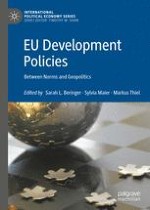 Erstes Kapitel lesen
Autor: Percy C. Hintzen
Abstract
The chapter argues that a bi-regional economic, political, and strategic relationship between the European Union (EU) and Latin America and the Caribbean can reverse the negative consequences being experienced by both regions of a post-World War II American-centered North Atlantic alliance. Such a relationship can replicate the benefits that propelled China's global emergence based on the development of an Asian regional network. The normative power of Europe's progressive form of social democracy makes the EU an attractive bi-regional partner, notwithstanding the central role it played in a US-centered North Atlantic alliance of neocolonial imperialism that devastated the political economies of the Latin American and the Caribbean region.