2017 | OriginalPaper | Buchkapitel
9. The EU, the Member States and International Law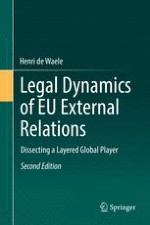 Erstes Kapitel lesen
Autor: Henri de Waele
Verlag: Springer Berlin Heidelberg
Abstract
Over the past decades, most issues concerning the interface between EU law and national law have been resolved, and Member States' authorities have grown to accept the basic tenets of supremacy and direct effect. However, from the moment that rules of international law come into play as well, the relationship between norms from the EU and the national legal order becomes less clear-cut. To smoothen the interplay between international, European and national law, the Treaties contain several tools and mechanisms, but these do not succeed in eradicating the tensions altogether. In this chapter, we will explore some of the (potential) fracture lines, and analyse the legal provisions that seek to iron them out. After a brief introduction (Sect.
9.1
), attention is first devoted to the place of the EU in the international legal order, and the way it has generally positioned itself (Sect.
9.2
). Thereby, we shall also discuss the internal rank and effect of international law norms, as well as the meandering views of the EU Courts on that subject. Hereafter, we take a closer look at the position of the Member States, sandwiched between their international and European commitments (Sect.
9.3
). In that investigation, a special focus is placed on the intricacies of managing mixed agreements, as well as on the (waning) possibilities for seeking enforcement at international courts and tribunals.