2017 | OriginalPaper | Buchkapitel
The European Central Bank (ECB) and European Democracy: A Technocratic Institution to Rule All European States?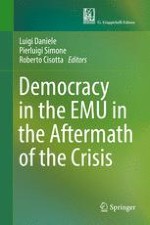 Erstes Kapitel lesen
Autor: Giulio Peroni
Abstract
The crisis has shown how the financial markets move very rapidly and the reaction times of democratic institutions are too slow for preventing the negative effects of financial turmoil. In this framework, the ECB has been very active since the beginning of the crisis and its action helped the Eurozone to avoid its economic and political collapse. Nevertheless, the ECB's action has been strongly criticised because it would appear to contravene EU rules and have probably had the effect to modify its role. The ECB would no longer be a technocratic institution, but the central hub of EU economy policy making, without any democratic effective control. This chapter intends to underline how the supposed democratic deficit can be avoided or limited by strengthening the ECB's transparency and accountability, safeguarding its independence from political influence.