2016 | OriginalPaper | Buchkapitel
2. The Eurozone Crisis: Between the Global Financial Crisis and the Structural Imbalances of the EMU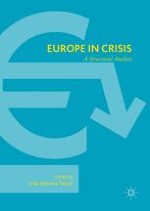 Erstes Kapitel lesen
Autor: Leila Simona Talani
Verlag: Palgrave Macmillan UK
Abstract
This chapter places the run on the sovereign debt of the so called 'PIIGS' group of EU member states (made up of Portugal, Ireland, Italy, Greece and Spain) within the context of the structural imbalances characterising the Economic and Monetary Union (EMU) from the onset.
It is argued that the global financial crisis, given the structural differences of the different Euro Area members states, acted as an asymmetric shock which exacerbated a structural problem of competitiveness embedded in the way in which the EMU was originally devised and implemented. By no means was the crisis only the result of an unsustainable fiscal position in the PIIGS member states. If anything, it confirmed the lack of sustainability of a structurally asymmetric monetary union in the wake of an extremely serious economic shock. This has meant bringing the PIIGS group to the verge of the abyss, despite many voices having warned at the onset of EMU about the need for more symmetric arrangements in Europe and the development of more fiscal and political integration.
This chapter addresses these issues, starting with the unfolding of the Eurozone crisis. It will then identify the structural imbalances of the EMU. Finally, it will assess the solutions that have seemingly been found to the crisis and their impact on the future of the EMU and of the PIIGS within it.