2019 | OriginalPaper | Buchkapitel
1. The Extended Parentela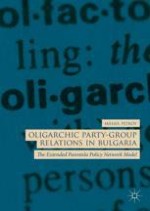 Autor: Mihail Petkov
Abstract
This chapter introduces the
parentela
policy network model as a party-group relationship format discovered by Joseph La Palombara in 1960s Italy. It is a relationship, where a group with a party insider status extends its influence into the Civil Service thanks to party's interference in the Bureaucracy, usually through political appointments. The Introduction discusses the definition of the parentela policy network and presents the latest theoretical advances into the model following the recent Bulgarian Parentela Study (BPS) of mid-2010s. Accordingly, the present chapter introduces
prejudiced regulatory inspections,
as a novel parentela element. The chapter argues that both La Palombara's original and the newly discovered dynamics, dubbed type one and type two parentela respectively, constitute a model of an oligarchic dynamic, which will be gradually developed throughout the book, where in Chapter
5
, in particular will express a hypothesis that follows from those dynamics. The Introduction also features a short methodological discussion.