2015 | OriginalPaper | Buchkapitel
The Fallacy of Space Safety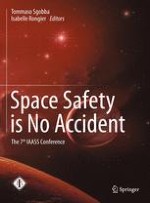 Erstes Kapitel lesen
Autor: John E. Babcock
Abstract
During his famous speech before Congress on 25 May 1961, President John F. Kennedy said "
I believe that this nation should commit itself to achieving the goal, before this decade is out, of landing a man on the moon and returning him safely to the earth
." During that speech he put a goal before the space community that was both exciting and nearly impossible. The fact that we were able to send men to the moon and bring them back safely was a combination of hard work and extremely good luck. Just the act of getting men off the Earth and into space is one of the most dangerous undertakings ever attempted and for the foreseeable future will not be "safe".