2017 | OriginalPaper | Buchkapitel
The First Twenty Cases Under GATT Article XX: Tuna or Shrimp Dear?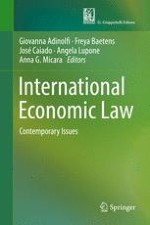 Autor: Niall Moran
Abstract
When the general exceptions to the GATT have been invoked before the Appellate Body, they have only been deemed a legitimate defence in two cases since the inception of the WTO and its Dispute Settlement Body in 1995. This article analyses why so many defences taken under the general exceptions to the GATT have failed and whether this low success rate is indicative of a priority being given to market access over public policy objectives at the WTO. In August 2014, the Appellate Body issued its twentieth report in a case appealed under the general exceptions. These first twenty reports are analysed to see which stage of the two-tier test measures have failed and why they have failed.
To better understand Article XX's context, this article first examines its historical evolution and recent interpretations of its two-tier test. It then turns to application of the two-tier test and why measures have failed the necessity test or failed to comply with Article XX's chapeau (the two elements of Article XX's two-tier test).
Finally, in light of Article XX's case law and how the two-tier test has been interpreted, it considers whether the Appellate Body is striking the right balance between Members' substantive rights and Members' rights to pursue public policy objectives under the general exceptions.