2018 | OriginalPaper | Buchkapitel
The Formulation and Use of Mixed Collectors in Sulphide Flotation—Valuable Performance Gains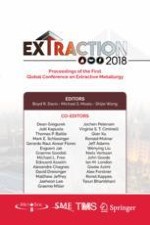 Erstes Kapitel lesen
Autoren: Norman O. Lotter, Deidre J. Bradshaw
Abstract
The formulation and use of mixed collector suites in sulphide flotation can be traced back as far as 1957 with the work of Glembottskii and his co-workers in Moscow. The subject was reviewed by Lotter and Bradshaw in 2010, and proposed a synergy between ideally-selected different reagent types to deliver improved performance, in particular the in situ catalysis of a xanthate to dixanthogen by a dithiocarbamate. Correctly formulated for a particular application, an optimally arranged mixed collector suite delivers the following improvements to the flotation process:
An increase in the flotation kinetics

Improvement in coarse, or middling, particle recovery

Reduction in total dosage requirement

Best results are found from testing the ratios of the collectors. This is of critical importance.
In all an optimally formulated mixed collector system usually delivers an increase in paymetals recovery of 1–4% absolute, with a gain in concentrate grade in the range 10–20% relative. In recent years, the addition of semi-conductor theory and associated electrochemistry has contributed significantly to this toolbox by way of identifying optimum domains of Eh and pH for the flotation of individual minerals. In the case of mixtures of minerals, this is where the mixed collector system delivers significant value by way of presenting a mixed set of collector radicals and dimers in a common Eh and pH domain for overall performance. This calls on a fundamental understanding of organic chemistry, mineralogy, semiconductor theory, and electrochemistry. Whereas the selection of grinding media type effectively influences the Eh, the pH can be easily controlled by pH modifiers. The theory of this system, and some industrial case studies, are discussed.