11.06.2020 | Ausgabe 5/2020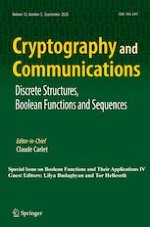 The group of automorphisms of the set of self-dual bent functions
Zeitschrift:
Autor:

Aleksandr Kutsenko
Wichtige Hinweise
This article belongs to the Topical Collection:
Boolean Functions and Their Applications IV
Guest Editors: Lilya Budaghyan and Tor Helleseth
The author was supported by the Russian Foundation for Basic Research (projects no. 18-07-01394, 20-31-70043), the study was supported within the framework of the state contract of the Sobolev Institute of Mathematics (project no. 0314-2019-0017) and Laboratory of Cryptography JetBrains Research.
Publisher's note
Springer Nature remains neutral with regard to jurisdictional claims in published maps and institutional affiliations.
Abstract
A bent function is a Boolean function in even number of variables which is on the maximal Hamming distance from the set of affine Boolean functions. It is called self-dual if it coincides with its dual. It is called anti-self-dual if it is equal to the negation of its dual. A mapping of the set of all Boolean functions in
n
variables to itself is said to be isometric if it preserves the Hamming distance. In this paper we study isometric mappings which preserve self-duality and anti-self-duality of a Boolean bent function. The complete characterization of these mappings is obtained for
\(n\geqslant 4\)
. Based on this result, the set of isometric mappings which preserve the Rayleigh quotient of the Sylvester Hadamard matrix, is characterized. The Rayleigh quotient measures the Hamming distance between bent function and its dual, so as a corollary, all isometric mappings which preserve bentness and the Hamming distance between bent function and its dual are described.