18.02.2015 | Ausgabe 2/2016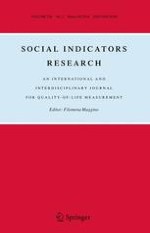 The Harmony in Life Scale Complements the Satisfaction with Life Scale: Expanding the Conceptualization of the Cognitive Component of Subjective Well-Being
Zeitschrift:
Autoren:

O. N. E. Kjell, D. Daukantaitė, K. Hefferon, S. Sikström
Abstract
Conceptually, the
Satisfaction with Life Scale
(SWLS; Diener et al. in J Pers Assess 49(1):71–75,
1985
) emphasizes evaluations comparing
actual
and
expected
life circumstances. Contrastingly we developed the
Harmony in Life Scale
(HILS) emphasizing psychological balance and flexibility in life. Study 1 (476 participants) developed the HILS. In Study 2 participants (N = 787, T1; N = 545, T2) answered well-being related questionnaires and generated words/texts related to HIL/SWL. The HILS yields satisfactory statistical properties, correlates as expected to well-being related scales, whilst HIL/SWL form a two-factor model. Hierarchical regressions reveal that HILS explains considerably more unique variance than SWLS in
most
included measures. Quantitative semantic analyses (employing latent semantic analyses) on words related to HIL/SWL reveal that they differ significantly in their semantic content. Word frequency analyses show that harmony significantly relate to
peace
,
balance
, etc. and satisfaction with
job
,
money
, etc. The HILS demonstrates validity, reliability, and uniqueness complementing the SWLS in forming a more holistic understanding of subjective well-being.