2011 | OriginalPaper | Buchkapitel
The Hormuz Strait Dam Macroproject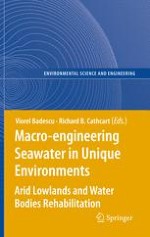 Erstes Kapitel lesen
Autoren: Roelof Schuiling, Viorel Badescu, Richard Cathcart, Piet van Overveld
Verlag: Springer Berlin Heidelberg
Abstract
"Noah's Ark", millennia ago, was caulked with tar mined from the ground's surface to make it a waterproof lifeboat capable of enduring "Noah's Flood". Today, petroleum is pumped from beneath the same desert region where, putatively, "Noah's Ark" was assembled. "Edin" is the Sumerian word for "plain"; the "Garden of Edin", planted by God as man's first home, is speculated to have been located somewhere on the trough-like alluvial plain situated north of the Strait of Hormuz, some of which has become seafloor while another part has become covered by river-borne sediments shifted from the Tigris-Euphrates watershed (Isaev and Mikhailova
2009
; Kennett and Kennett
2006
). "Edin" was Paradise, the true cradle of mankind, according to Sumerian myths and later religious mythologies (Hamblin
1987
; Scafi
2006
). Is there a possibility that Twenty-first Century Macro-engineering may make the arid region north of the Strait of Hormuz more livable? We assume no significant future changes in the existing wind climatology of the Persian Gulf—that is, during the summertime, the Indian monsoon-created light northwesterly winds over the Gulf, which allow the formation of thermally driven air circulations—sea breezes on land all year and land breezes on land during nighttime (Eager et al.
2008
). Sadly, and with some trepidation bordering on alarm, we also must assume that the historically famous "Fertile Crescent" could "disappear" during the Twenty-first Century owing to climate change related to global warming, however that air warming might be caused (Kitoh et al.
2008
). In other words, the ecosystem-states of the Gulf must find, during the Twenty-first Century, some new economic status of energy supply security and price stability, amongst other macro-problems in need of macro-engineering solutions.