2017 | OriginalPaper | Buchkapitel
3. The Immunity of Internet Intermediaries Reconsidered?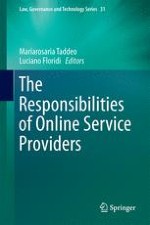 Erstes Kapitel lesen
Autor: Georgios N. Yannopoulos
Abstract
In Web 2.0 anyone can become a producer of information. As a result, countless 'intermediaries' operate as go-betweens and facilitators to transmit such information. In view of the above, we seek to examine whether they are liable for unlawful or harmful content contained in these transmissions. In 2000 the EU Electronic Commerce Directive (ECD) established a status of immunity for access, cache and host providers. Subsequent legislation regulating electronic communications, data protection, secrecy of communication and enforcement of intellectual property has dramatically increased the obligations of intermediaries and, hence, the degree of their liability, albeit on a cases by case basis and without necessarily challenging the provisions of ECD.
This chapter seeks to identify the exact role of the new power players in the digital world and to discover the boundaries between immunity and liability of Internet intermediaries. Especially their behaviour as
quasi
judges for defending legitimacy in cyberspace is examined in relation to the need for intervention by the judicial authorities. Methods and policies in order to foster an ethos of compliance and social responsibility are proposed for those new gatekeepers in comparison to positive laws and regulations.