05.08.2017 | Ausgabe 3/2017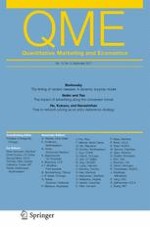 The impact of advertising along the conversion funnel
Zeitschrift:
Autoren:

Stephan Seiler, Song Yao
Wichtige Hinweise
We thank Eric Anderson, Tomomichi Amano, Eric Bradlow, Pradeep Chintagunta, Yufeng Huang, Mitch Lovett, Carl Mela, Sridhar Narayanan, Aviv Nevo, Thomas Otter, Brad Shapiro, and participants of the INFORMS Marketing Science Conference 2016 and Yale Customer Insights Conference 2017 for their feedback. We thank Herb Sorensen for his invaluable help with the path-tracking data. We particularly thank Pedro Gardete for helping us compute wild bootstrap standard errors. All errors are our own.
Abstract
We assemble a unique data set that combines information on supermarket feature advertising with path-tracking data on consumers' movement within the store as well as purchase information. Using these novel data, we trace out how advertising affects consumer behavior along the path-to-purchase. We find advertising has no significant effect on the number of consumers visiting the category being advertised. The null effect is precisely estimated. At the upper bound of the confidence interval, a one-standard-deviation shift in advertising increases category traffic by only 1.3%. We do find a significant effect at the lower end of the conversion funnel. A one-standard-deviation change in advertising (evaluated at the point estimate) increases category-level sales by 10%. We further decompose the impact on sales and find the increase is driven by the same number of consumers buying a larger number of products of the same brand. We find no evidence of spillover effects of advertising between categories that are stocked in proximity of each other, nor between different products in the same category. Two mechanisms are consistent with these patterns: consumers retrieve memory of the ad only when interacting with the category or only consumers wanting to purchase the brand choose to consume the ad.