01.09.2012 | Special Issue | Ausgabe 2/2012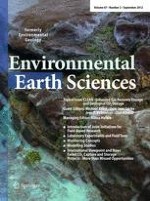 The impact of diagenetic fluid–rock reactions on Rotliegend sandstone composition and petrophysical properties (Altmark area, central Germany)
Zeitschrift:
Autoren:

Dieter Pudlo, Viktor Reitenbach, Daniel Albrecht, Leonhard Ganzer, Ulrich Gernert, Joachim Wienand, Bernd Kohlhepp, Reinhard Gaupp
Wichtige Hinweise
Electronic supplementary material
The online version of this article (doi:
10.​1007/​s12665-012-1723-y
) contains supplementary material, which is available to authorized users.
Abstract
In the framework of the German R&D joint project CLEAN (CO2 large-scale enhanced gas recovery in the Altmark natural gas field), Rotliegend reservoir sandstones of the Altensalzwedel block in the Altmark area (Saxony-Anhalt, central Germany) have been studied to characterise litho- and diagenetic facies, mineral content, geochemical composition, and petrophysical properties. These sands have been deposited in a playa environment dominated by aeolian dunes, dry to wet sand flats and fluvial channel fills. The sediments exhibit distinct mineralogical, geochemical, and petrophysical features related to litho- and diagenetic facies types. In sandstones of the damp to wet sandflats, their pristine red colours are preserved and porosity and permeability are only low. Rocks of the aeolian environment and most of the channel fill deposits are preferentially bleached and exhibit moderate to high porosity and permeability. Although geochemical element whole rock content in these rocks is very similar, element correlations are different. Variations in porosity and permeability are mainly due to calcite and anhydrite dissolution and differences in clay coatings with Fe-bearing illitic-chloritic composition exposed to the pore space. Moreover, mineral dissolution patterns as well as compositions (of clays and carbonate) and morphotypes of authigenic minerals (chlorite, illite) are different in red and bleached rocks. Comparison of the geochemical composition and mineralogical features of diagenetically altered sandstones and samples exposed to CO2-bearing fluids in laboratory batch experiments exhibit similar character. Experiments prove an increase in wettability and water binding capacity during CO2 impact.