12.11.2018 | Ausgabe 4/2018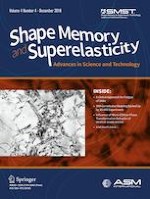 The Impact of Fatigue Testing and Surface Processing on Nickel Release in Nitinol Stents
Zeitschrift:
Autoren:

Srinidhi Nagaraja, Vaishnavi Chandrasekar, David Ormonde, Hailey Hickey, Kristen Lipschultz, Calvin Chao, Kent Vilendrer, Alan R. Pelton
Abstract
Immersion testing of medical implants is typically performed under non-loaded conditions to assess susceptibility of metal ion release from a device. However, many implants are subjected to repetitive forces in vivo, which may increase ion release into surrounding tissues. Therefore, the objective of this study was to determine whether fatigue loading of stents with different surface finishes accelerates nickel release. Nitinol stents with an electropolished (EP) oxide or blue oxide (BO) were assigned to the following groups: (1) static immersion without loading, (2) static fluid pressure and bend, (3) dynamic pressure on a static bend, and (4) dynamic bending with static pressure. Immersion fluid was collected periodically and analyzed for nickel concentration using ICP-MS. Results indicated nickel release under dynamic bending was greater by up to 280× for EP and 190× for BO finishes compared to all other groups (
p 
< 0.02). Although not significant (
p 
> 0.27), nickel release under dynamic pressure conditions was up to 50× higher compared to static groups. In addition, BO stents released up to 6× greater levels of nickel compared to EP stents for static immersion, dynamic pressure, and dynamic bending groups (
p 
< 0.05). These findings highlight the impact of fatigue loading on uniform corrosion for different nitinol stent surfaces.