02.07.2018 | Original Paper | Ausgabe 18-19/2018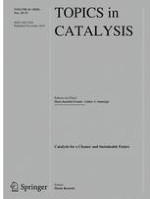 The Impact of La Doping on Dry Reforming Ni-Based Catalysts Loaded on FSP-Alumina
Zeitschrift:
Autoren:

Jonathan Horlyck, Stephanie Lewis, Rose Amal, Jason Scott
Wichtige Hinweise
Electronic supplementary material
Abstract
The activity of nickel-based catalysts makes them promising for the dry reforming of methane (DRM), but their implementation is limited by instability which stems from undesirable selectivity to side reactions that promote carbon formation. Cobalt can be added in the form of a bimetallic Ni–Co catalyst to improve stability although this can be at the expense of activity. Here we report the impact of lanthanum doping of an alumina support on the performance of neat Ni and bimetallic Ni–Co dry reforming catalysts with the intent of improving both stability/selectivity and activity. Direct investigation of the DRM side reactions demonstrated that introducing La to the alumina support decreased the selectivity of Ni towards the Boudouard and methane cracking reactions. This afforded Ni an enhanced resistance to catalyst coking, thereby improving catalyst stability. Monometallic Ni supported by La-doped alumina was found to be the most active catalyst for the DRM with the La addition also improving catalyst stability via suppression of the Boudouard and methane cracking reactions. The benefits of La-doping on catalyst performance were less pronounced when Co was present alongside the Ni as the La superseded the positive contribution of the Co. Characterisation of the materials illustrated La inclusion into the support was in the form of single atoms highly dispersed across the Al2O3 surface, which improved support basicity and strengthened the interactions between the Ni/Co metal and the support.