2017 | OriginalPaper | Buchkapitel
The Impact of Population Size, Number of Children, and Number of Reference Points on the Performance of NSGA-III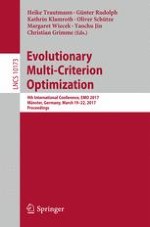 Erstes Kapitel lesen
Autoren: Ryoji Tanabe, Akira Oyama
Abstract
We investigate the impact of three control parameters (the population size
\(\mu \)
, the number of children
\(\lambda \)
, and the number of reference points
H
) on the performance of Nondominated Sorting Genetic Algorithm III (NSGA-III). In the past few years, many efficient Multi-Objective Evolutionary Algorithms (MOEAs) for Many-Objective Optimization Problems (MaOPs) have been proposed, but their control parameters have been poorly analyzed. The recently proposed NSGA-III is one of most promising MOEAs for MaOPs. It is widely believed that NSGA-III is almost parameter-less and requires setting only one control parameter (
H
), and the value of
\(\mu \)
and
\(\lambda \)
can be set to
\(\mu = \lambda \approx H\)
as described in the original NSGA-III paper. However, the experimental results in this paper show that suitable parameter settings of
\(\mu \)
,
\(\lambda \)
, and
H
values differ from each other as well as their widely used parameter settings. Also, the performance of NSGA-III significantly depends on them. Thus, the usually used parameter settings of NSGA-III (i.e.,
\(\mu = \lambda \approx H\)
) might be unsuitable in many cases, and
\(\mu \)
,
\(\lambda \)
, and
H
require a particular parameter tuning to realize the best performance of NSGA-III.