01.06.2019 | Original Article | Ausgabe 11/2019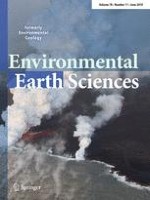 The in situ natural radionuclide (238U,232Th and40K) concentrations in Gümüşhane granitoids: implications for radiological hazard levels of Gümüşhane city, northeast Turkey
Zeitschrift:
Autoren:

Nafiz Maden, Enver Akaryalı, Necati Çelik
Wichtige Hinweise
Publisher's Note
Springer Nature remains neutral with regard to jurisdictional claims in published maps and institutional affiliations.
Abstract
We have carried out 48 in situ measurements on radioactivities of 238U, 232Th and 40K isotopes at the Gümüşhane granitoid plutons employing gamma-ray spectrometer with a NaI(Tl) scintillation detector. The radionuclide activity concentrations of 40K, 238U and 232Th ranged from 62.6 to 1680.8 Bq kg−1, 2.5 to 119.9 Bq kg−1 and 3.3 to 92.4 Bq kg−1, respectively. The mean concentration of natural radionuclides (40K, 238U and 232Th) was found to be 638.5 ± 421.6 Bq kg−1, 40.8 ± 27.4 Bq kg−1 and 33.5 ± 25.5 Bq kg−1, respectively. The mean values of the radium equivalent and the external hazard index were 137.9 ± 80.6 Bq kg−1 and 0.37 ± 0.22, respectively. The value of annual effective dose equivalent value (81.8 μSv year−1) is lower on average than in the world average of 460 μSv year−1. The external hazard index acquired in this study did not exceed the international safety standard levels, which means that Gümüşhane pluton does not produce any radiation hazards to the dwellers.