29.12.2016 | Ausgabe 1/2017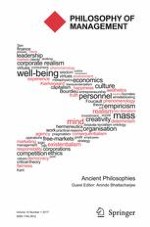 The '
Indian Philosophy of Consciousness

' and its Relevance to 21st Century Business Management
Zeitschrift:
Autor:

Sandeep Gupta
Abstract
Since the late 1900s the business world has been under increasing pressure to demonstrate responsible social behaviour and the pressure continues to grow. Today, the role of business in society is on the Boardroom agenda and at stake are corporate reputation, innovation, competitiveness and growth. It is a clarion call, that either, the CEO and the Board manage it or someone else will manage it for them. As we know that we cannot solve our problems with the same level of thinking that created them; therefore it is imperative that we look beyond the 20th century's scientism and materialism dominated worldly ways for solutions. In view of the above, I believe that the '
Indian Philosophy of Consciousness
' which focuses on practicing "better-worldliness" rather than "worldliness" and has developed over the past 4000 years has the potential to help business. Better worldliness is 'a disposition towards life that is based on a Dharmic (righteous) way of conduct; a conduct with compassion and forbearance for fellow man, no matter what the nationality, or the colour of the skin, religion or caste.' Society expects similar compassion and forbearance from business.