14.05.2019 | Research Article | Ausgabe 5/2019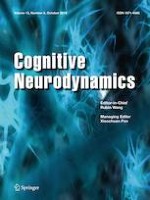 The individuality index: a measure to quantify the degree of inter-individual, spatial variability in intra-cerebral brain electric and metabolic activity
Zeitschrift:
Autoren:

Thorsten Fehr, Patricia Milz
Wichtige Hinweise
Publisher's Note
Springer Nature remains neutral with regard to jurisdictional claims in published maps and institutional affiliations.
Abstract
Contemporary neuroscience research primarily focuses on the identification of brain activation patterns commonly deviant across participant groups or experimental conditions. This approach inherently underestimates potentially meaningful intra- and inter-individual variability present in brain physiological measures. We propose a parameter referred to as 'individuality index (II)' that takes individual variability into account. It quantifies the degree of individual variance of brain activation patterns for different brain regions and participants. IIs can be computed based on intra-cerebral source strength values such as the ones derived from the exact low resolution electromagnetic tomography source localization software. We exemplary estimated IIs for simulated datasets. Our results illustrate how IIs are affected by different spatial activation patterns across participants and quantify their distributional properties. They suggest that the proposed indices can meaningfully quantify inter- and intra-individuality of brain activation patterns. Their application to realistic datasets will allow the identification of (1) those brain regions that show particularly heterogeneous activation patterns, the contribution of which is particularly likely to be underestimated by conventional group statistics, (2) those brain regions that can alternatively be recruited by different participants for the same tasks, and (3) their associations with potentially decisive behavioral variables such as individually applied mental strategy.