2020 | OriginalPaper | Buchkapitel
The Influence of Changes in Way of Use, in Climate and in Hydrological Conditions on Histosol in Reclamation Area in Peatland Ždralovac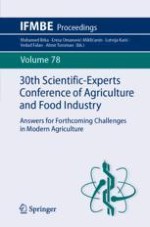 Erstes Kapitel lesen
Possibilities of Re-establish of Agricultural Production in Abandoned Reclamation Area in Peatland Ždralovac in Livanjsko Polje After 25 yr.
Autoren: Mirza Tvica, Hamdija Čivić, Vesna Tunguz
Abstract
Fen type peatland Ždralovac in Livanjsko Polje (Livno's karsts field) in south-west Bosnia and Herzegovina traditionally were used for livestock grazing with mowing grass, agricultural production by the sides of the field and peat excavation only for own necessaries.
The 1970s at southern part peatland with shallow peat was built a reclamation area Table (1000 ha) used for agricultural production. The entire hydro meliorated system is designed based on shallow and controlled drainage with the system of water-gates that maintained the water table at a depth which enabled the continuous capillary wetting of the rhizosphere in the dry summer period. After the last war (1991–1995) in Bosnia and Herzegovina, these areas were abandoned over the past 20 years so that the entire system of water-gates is now devastated. Peatland use change and uncontrolled drainage together with climate change are lowered the water table level and prolonged drying of the surface layer in the summer period. This has further caused accelerates peat mineralization by changing its traits and reducing the peat depth to only 20 cm. Everything was followed numerous long-lasting fires resulting in the changes in vegetation cover on agricultural areas that overgrown into grassy surfaces, shrubs and trees.
The aim of this paper is to evaluate the possibility of renewal of agricultural production on these surfaces taking into account the results of the analysis of climate change, changes in hydrological conditions, soil water balance and the physical and chemical properties of Histosol.
The possibility of restoration of agricultural production on these surfaces primarily includes the continuous supply crops with the water in the summer period.