2018 | OriginalPaper | Buchkapitel
The Influence of Emoji on the Internet Text Perception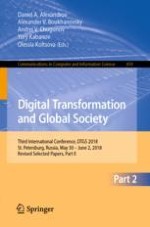 Erstes Kapitel lesen
Autoren: Aleksandra Vatian, Antonina Shapovalova, Natalia Dobrenko, Nikolay Vedernikov, Niyaz Nigmatullin, Artem Vasilev, Andrei Stankevich, Natalia Gusarova
Abstract
Subject of Research.
The paper deals with emoji - a small digital image or icon used to express an idea or emotion in electronic communication. The aim of the work is to find the dependencies between the use of emojis in text messages and the extent to which the messages attract users' attention while viewing a page, especially in Russian-speaking Internet community.
Method.
Social network "Vkontakte" was chosen for the basis of the study, and four most extensive and popular communities were selected within it. The structure of a typical post in the VKontakte group was studied to identify the most obvious ways of expressing reactions to a post. Using the linear regression algorithm, graphs were constructed for the relationship between the frequency of use of emojis in the post and main indicators of attitude toward the post.
Main Results.
For all types of communities there is a clear tendency to reduce any type of reaction to a post with the increase in the frequency of emojis in it. Most responded posts contain no emojis at all, and such reports constitute the majority of the analyzed posts. The only exceptions have become fan communities. They also feature this trend, but the "attenuation" of interest is slower. Entertaining and motivational communities also reflect the phenomenon of slow fading of interest, but not so clearly and only in special cases.