13.10.2016 | Ausgabe 3/2017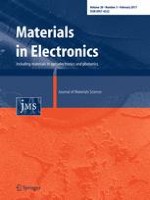 The influence of linker molecule on photovoltaic performance of CdS quantum dots sensitized translucent TiO2 nanotube solar cells
Autoren:

Libo Yu, Zhen Li, Hai Song
Wichtige Hinweise
Electronic supplementary material
The online version of this article (doi:
10.​1007/​s10854-016-5871-9
) contains supplementary material, which is available to authorized users.
Abstract
Based on translucent TiO2 nanotube (NT) film, CdS quantum dots (QDs) were anchored onto TiO2 NT film using different linker molecules including thioglycolic acid (TGA), mercaptopropionic acid (MPA) and cysteine via hydrothermal method. The CdS QDs sensitized TiO2 NT (CdS/TiO2 NT) electrodes were constructed to quantum dots-sensitized solar cells (QDSSCs). The photovoltaic performance analysis results of the QDSSCs show that the linker molecule plays a significant role in the solar cell performance. The QDSSC using cysteine as linker molecule exhibits best power conversion efficiency than the other QDSSCs using TGA or MPA as linker molecules. The incident photon-to-current conversion efficiency (IPCE) and the electrochemical impedance spectroscopy (EIS) analysis results indicate that amino group of cysteine may has two aspects of the role to improve the power conversion efficiency of the QDSSC, one is that the good charge transfer properties of the cysteine might depend on the good donor–acceptor abilities of the free electron pair of the amino group, another is that distance between the TiO2 NT and the CdS QDs could be slightly decreased due to the cysteine could anchor the CdS QDs via both amino and thiol group.