09.11.2017 | Ausgabe 1/2018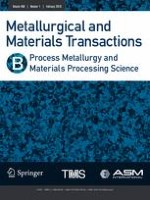 The Integration of Plant Sample Analysis, Laboratory Studies, and Thermodynamic Modeling to Predict Slag-Matte Equilibria in Nickel Sulfide Converting
Zeitschrift:
Autoren:

Taufiq Hidayat, Denis Shishin, David Grimsey, Peter C. Hayes, Evgueni Jak
Wichtige Hinweise
Manuscript submitted May 26, 2017.
Abstract
The Kalgoorlie Nickel Smelter (KNS) produces low Fe, low Cu nickel matte in its Peirce–Smith converter operations. To inform process development in the plant, new fundamental data are required on the effect of CaO in slag on the distribution of arsenic between slag and matte. A combination of plant sample analysis, high-temperature laboratory experiments, and thermodynamic modeling was carried out to identify process conditions in the converter and to investigate the effect of slag composition on the chemical behavior of the system. The high-temperature experiments involved re-equilibration of industrial matte-slag-lime samples at 1498 K (1225 °C) and
P
(SO
2
) = 0.12 atm on a magnetite/quartz substrate, rapid quenching in water, and direct measurement of phase compositions using electron probe X-ray microanalysis (EPMA) and laser ablation–inductively coupled plasma–mass spectrometry (LA-ICP-MS). A private thermodynamic database for the Ca-Cu-Fe-Mg-Ni-O-S-Si-(As) system was used together with the FactSage software package to assist in the analysis. Thermodynamic predictions combined with plant sample characterization and the present experimental data provide a quantitative basis for the analysis of the effect of CaO fluxing on the slag-matte thermochemistry during nickel sulfide converting, in particular on the spinel liquidus and the distribution of elements between slag and matte as a function of CaO addition.