2019 | OriginalPaper | Buchkapitel
3. The Legacy of the Portuguese Transition to Democracy:
April-Warriors

Versus

November-Warriors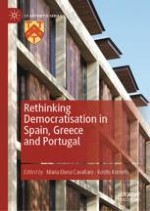 Erstes Kapitel lesen
Autoren: Filipa Raimundo, Claudia Generoso de Almeida
Abstract
Political parties will engage in policy and non-policy activities in the field of memory politics if they believe this will helps them win more votes, but the extent to which they engage in such activities and develop strong narratives about the recent past varies. This chapter explores how much memory politics has mattered for political parties in Portugal since the breakdown of the authoritarian regime. Analysing four decades of activities in the Portuguese parliament (1976–2016) reveals the existence of mnemonic groups, particularly mnemonic-warriors, roughly divided along the left/right axis, in which the memory of the transition appears as more divisive than the authoritarian past. The Portuguese case is a case of a relative crystallisation of parties' position and behaviour in the field of memory politics, even decades after the democratisation process.