2010 | OriginalPaper | Buchkapitel
"The Legal Bit's in Russian": Making Sense of Downloaded Music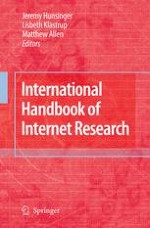 Erstes Kapitel lesen
Autor: Marjorie D. Kibby
Verlag: Springer Netherlands
Abstract
Peer-to-peer sharing of music files grew in the face of consumer dissatisfaction with the compact disc and the absence of any real alternative. Many users were more or less "forced" to turn to illegal file sharing to access single tracks, back catalogues, and niche genres. Recently the almost simultaneous arrival of broadband internet and the iPod has seen music downloading become a respectable activity and a multi-billion dollar industry.
However, file sharing was more than the fastest or cheapest way to gain access to music. File sharing was, and is, part of a broader cultural shift towards copying, cloning and re-badging. It developed in an era where companies produce logos, not products, and cut and paste bricolage is applauded as creativity. Downloading music files is more than acquiring the latest hit song. It is an interactive and creative act.
People, music consumers included, work to make sense of rapidly changing systems and situations. Sense-making involves not only knowledge, but equally intuitions, opinions, value judgements and affective investments. Users rationalize their use of dubiously legal Russian music-download sites, with the outcome that there is less cachet in getting your music from Walmart online than from a Russian MP3 site such as GoMusic, MP3Sugar and AllofMP3.